Every Door Direct Mail (EDDM)
EDDM Every Door Direct Mail or "EDDM" is a service that the USPS offers that enables you to reach every address in a certain area or zone. It's a very effective way to target concentrated areas of residents or residents and businesses. With EDDM, you map out any area you want to target by selecting zip code(s) and then select specific routes using demographic data (age, household income etc.) or by selecting the entire zip code. Your piece must be a certain size in order to qualify for EDDM rates. The pieces need to be put into bundles of a certain amount and combined with a Facing Slip. It is then taken to the Post Office and sent out to those areas you selected. Target your farm area with regular Just Listed, Just Sold and Market Reports updates for lead generation.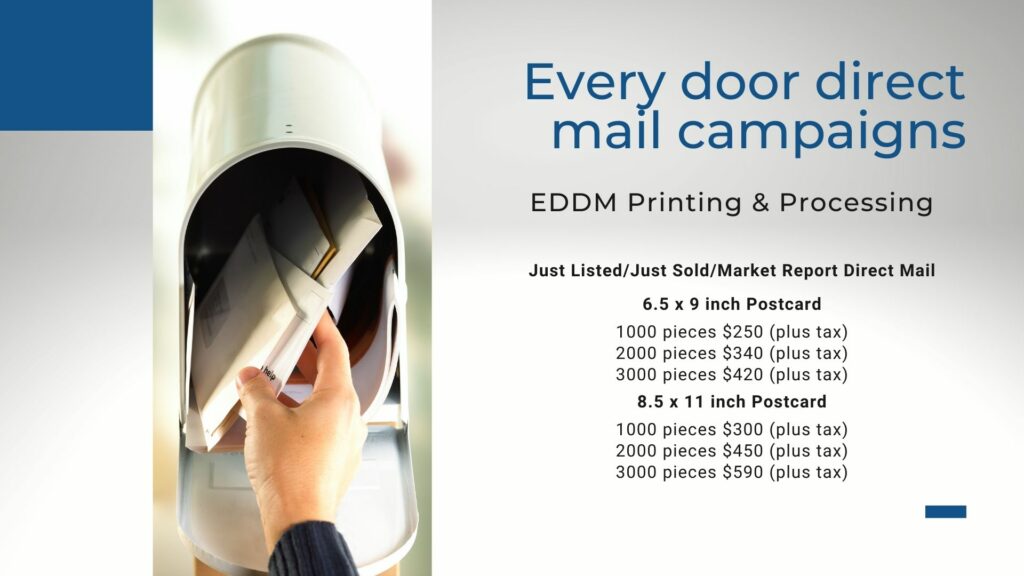 Advantages of Every Door Direct Mail
One benefit of Every Door Direct Mail is that the mail piece has to be a larger size. This allows you to fit more content onto your piece. No need to purchase a mailing list for EDDM mailings. This is another way you in which you save. It is also very cheap to mail. The postage is quite a bit less than doing a more targeted or spread out mailing. The postage is usually between to .18-.19 cents each. Every Door Direct Mail is a very popular method for businesses that want to reach a certain target market. We'll help create a professional looking mailer and can handle the processing and delivery to the appropriate post office (Note: we currently serve Pinellas, Hillsborough and Pasco counties in Tampa Bay).